The goal of this website is to be a safe for souls website advancing Catholic thinking and education. When editing, please adhere to the Content Standards.
Some images have been enhanced for teaching purposes and may not be identical to the original artwork.
Category:Armenia
From The Work of God's Children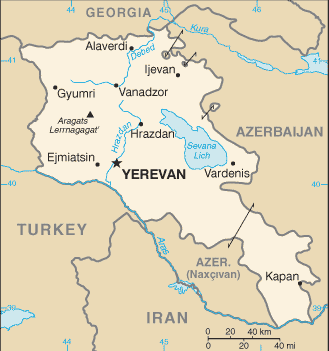 Armenia prides itself on being the first nation to formally adopt Christianity (early 4th century). Despite periods of autonomy, over the centuries Armenia came under the sway of various empires including the Roman, Byzantine, Arab, Persian, and Ottoman. During World War I in the western portion of Armenia, Ottoman Turkey instituted a policy of forced resettlement coupled with other harsh practices that resulted in an estimated 1 million Armenian deaths. The eastern area of Armenia was ceded by the Ottomans to Russia in 1828 A.D.; this portion declared its independence in 1918 A.D., but was conquered by the Soviet Red Army in 1920 A.D.. Armenian leaders remain preoccupied by the long conflict with Muslim Azerbaijan over Nagorno-Karabakh, a primarily Armenian-populated region, assigned to Soviet Azerbaijan in the 1920s by Moscow. Armenia and Azerbaijan began fighting over the area in 1988 A.D.; the struggle escalated after both countries attained independence from the Soviet Union in 1991 A.D.. By May 1994 A.D., when a cease-fire took hold, Armenian forces held not only Nagorno-Karabakh but also a significant portion of Azerbaijan proper. The economies of both sides have been hurt by their inability to make substantial progress toward a peaceful resolution. Turkey imposed an economic blockade on Armenia and closed the common border because of the Armenian occupation of Nagorno-Karabakh and surrounding areas. Armenian is the primary language; Yezidi and Russian are also spoken.
---
---excerpt from the Illustrated Bible Dictionary.
Armenia - high land,
occurs only in Authorized Version, 2 Kings 19:37; in Revised Version, "Ararat," which is the Hebrew word. A country in western Asia lying between the Caspian and the Black Sea. Here the ark of Noah rested after the Deluge (Genesis 8:4). It is for the most part high table-land, and is watered by the Aras, the Kur, the Euphrates, and the Tigris. Ararat was properly the name of a part of ancient Armenia. Three provinces of Armenia are mentioned in Jeremiah 51:27, Ararat, Minni, and Ashchenaz. Some, however, think Minni a contraction for Armenia. (See ARARAT.)
Subcategories
This category has only the following subcategory.
A
Media in category "Armenia"
The following 11 files are in this category, out of 11 total.