The goal of this website is to be a safe for souls website advancing Catholic thinking and education. When editing, please adhere to the Content Standards.
Some images have been enhanced for teaching purposes and may not be identical to the original artwork.
Category:Azerbaijan
From The Work of God's Children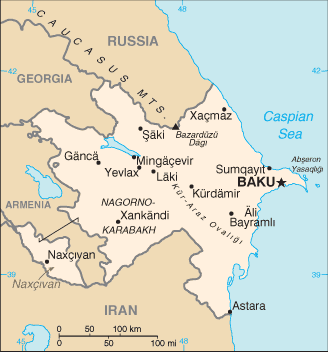 Azerbaijan - a nation with a Turkic and majority-Muslim population - was briefly independent from 1918 A.D. to 1920 A.D.; it regained its independence after the collapse of the Soviet Union in 1991 A.D.. Despite a 1994 A.D. cease-fire, Azerbaijan has yet to resolve its conflict with Armenia over the Azerbaijani Nagorno-Karabakh enclave (largely Armenian populated). Azerbaijani (Azeri) is the primary language; Lezgi, Russian, and Armenian are also spoken.
Media in category "Azerbaijan"
The following 5 files are in this category, out of 5 total.