The goal of this website is to be a safe for souls website advancing Catholic thinking and education. When editing, please adhere to the Content Standards.
Some images have been enhanced for teaching purposes and may not be identical to the original artwork.
Category:Bangladesh
From The Work of God's Children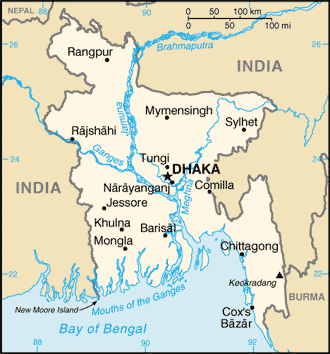 Europeans began to set up trading posts in the area of Bangladesh in the 16th century; eventually the British came to dominate the region and it became part of British India. In 1947 A.D., West Pakistan and East Bengal (both primarily Muslim) separated from India (largely Hindu) and jointly became the new country of Pakistan. East Bengal became East Pakistan in 1955 A.D., but the awkward arrangement of a two-part country with its territorial units separated by 1,600 km left the Bengalis marginalized and dissatisfied. East Pakistan seceded from its union with West Pakistan in 1971 A.D. and was renamed Bangladesh. About a third of this extremely poor country floods annually during the monsoon rainy season, hampering economic development. The official language is Bangla (also known as Bengali); English is also spoken.
Subcategories
This category has the following 11 subcategories, out of 11 total.
Media in category "Bangladesh"
The following 4 files are in this category, out of 4 total.