The goal of this website is to be a safe for souls website advancing Catholic thinking and education. When editing, please adhere to the Content Standards.
Some images have been enhanced for teaching purposes and may not be identical to the original artwork.
Category:Burma
From The Work of God's Children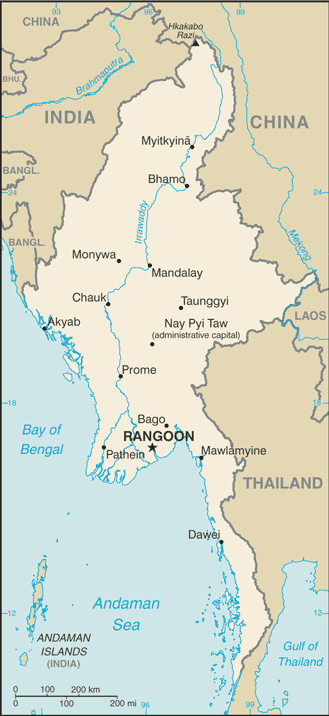 Great Britain conquered Burma over a period of 62 years (1824 A.D.-1886 A.D.) and incorporated it into its Indian Empire. Burma was administered as a province of India until 1937 A.D. when it became a separate, self-governing colony; independence from the Commonwealth was attained in 1948 A.D.. Gen. Ne Win dominated the government from 1962 A.D. to 1988 A.D., first as military ruler, then as self-appointed president, and later as political kingpin. Despite multiparty legislative elections in 1990 A.D. that resulted in the main opposition party - the National League for Democracy (NLD) - winning a landslide victory, the ruling junta refused to hand over power. Burma is now officially the Republic of the Union of Myanmar, commonly shortened to Myanmar. The primary language is Burmese.
Subcategories
This category has the following 16 subcategories, out of 16 total.
Pages in category "Burma"
This category contains only the following page.
M
Media in category "Burma"
The following 12 files are in this category, out of 12 total.
| | | | |
| --- | --- | --- | --- |
| | | | |
| | | | |
| | | | |