The goal of this website is to be a safe for souls website advancing Catholic thinking and education. When editing, please adhere to the Content Standards.
Some images have been enhanced for teaching purposes and may not be identical to the original artwork.
Category:Cape Verde
From The Work of God's Children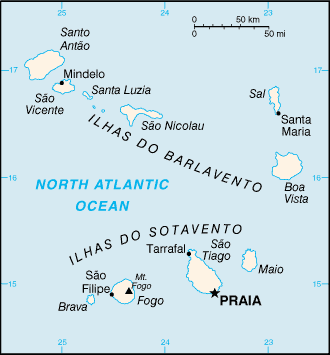 The uninhabited islands were discovered and colonized by the Portuguese in the 15th century; Cape Verde subsequently became a trading center for African slaves and later an important coaling and resupply stop for whaling and transatlantic shipping. Following independence in 1975 A.D., and a tentative interest in unification with Guinea-Bissau, a one-party system was established and maintained until multi-party elections were held in 1990 A.D.. Cape Verde continues to exhibit one of Africa's most stable democratic governments. Repeated droughts during the second half of the 20th century caused significant hardship and prompted heavy emigration. As a result, Cape Verde's expatriate population is greater than its domestic one. Most Cape Verdeans have both African and Portuguese antecedents. Portuguese and Crioulo are spoken.
Subcategories
This category has the following 5 subcategories, out of 5 total.
A
L
M
P
R
Media in category "Cape Verde"
This category contains only the following file.