The goal of this website is to be a safe for souls website advancing Catholic thinking and education. When editing, please adhere to the Content Standards.
Some images have been enhanced for teaching purposes and may not be identical to the original artwork.
Category:Cassock
From The Work of God's Children
The cassock is a vestment that has two applications:
The cassock is part of the clerical garb worn by priests and seminarians. It is usually black.
The cassock is a vestment worn by altarboys. It is usually black, but in some applications can also be red or white.
Cas"sock, n. Etym: [F. casaque, fr. It. casacca, perh. fr. L. casa cottage, in It., house; or of Slavic origin.]
1. A long outer garment formerly worn by men and women, as well as by soldiers as part of their uniform.
2. (Eccl.)
Defn: A garment resembling a long frock coat worn by the clergy of certain churches when officiating, and by others as the usually outer garment.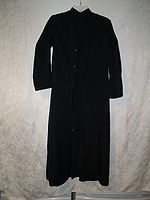 Media in category "Cassock"
The following 6 files are in this category, out of 6 total.