The goal of this website is to be a safe for souls website advancing Catholic thinking and education. When editing, please adhere to the Content Standards.
Some images have been enhanced for teaching purposes and may not be identical to the original artwork.
Category:Central African Republic
From The Work of God's Children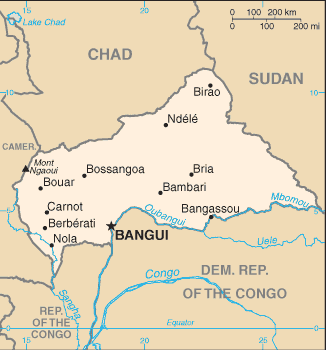 The former French colony of Ubangi-Shari became the Central African Republic upon independence in 1960 A.D.. After three tumultuous decades of misrule - mostly by military governments - civilian rule was established in 1993 A.D. and lasted for one decade. President Ange-Felix Patasse's civilian government was plagued by unrest, and in March 2003 A.D. he was deposed in a military coup led by General Francois Bozize, who established a transitional government. French, Sangho, and tribal languages are spoken.
Subcategories
This category has the following 11 subcategories, out of 11 total.
Media in category "Central African Republic"
This category contains only the following file.