The goal of this website is to be a safe for souls website advancing Catholic thinking and education. When editing, please adhere to the Content Standards.
Some images have been enhanced for teaching purposes and may not be identical to the original artwork.
Category:Equatorial Guinea
From The Work of God's Children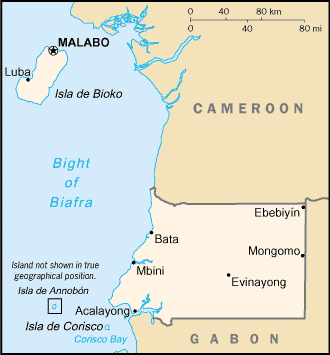 Equatorial Guinea gained independence in 1968 A.D. after 190 years of Spanish rule. This tiny country, composed of a mainland portion plus five inhabited islands, is one of the smallest on the African continent. President Teodoro Obiang Nguema Mbasogo has ruled the country since 1979 A.D. when he seized power in a coup. Although nominally a constitutional democracy since 1991 A.D., the 1996 A.D. and 2002 A.D. presidential elections - as well as the 1999 A.D. and 2004 A.D. legislative elections - were widely seen as flawed. Equatorial Guinea has experienced rapid economic growth due to the discovery of large offshore oil reserves, and in the last decade has become Sub-Saharan Africa's third largest oil exporter. Spanish and French are the official languages; Fang and Bubi are also spoken.
Subcategories
This category has the following 7 subcategories, out of 7 total.
Media in category "Equatorial Guinea"
This category contains only the following file.