The goal of this website is to be a safe for souls website advancing Catholic thinking and education. When editing, please adhere to the Content Standards.
Some images have been enhanced for teaching purposes and may not be identical to the original artwork.
Category:Fiji
From The Work of God's Children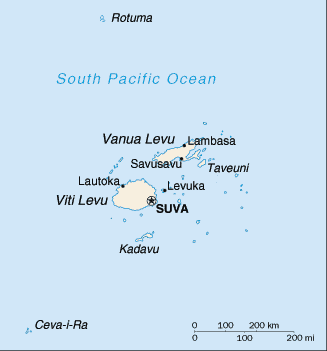 Fiji became independent in 1970 A.D., after nearly a century as a British colony. Democratic rule was interrupted by two military coups in 1987 A.D., caused by concern over a government perceived as dominated by the Indian community (descendants of contract laborers brought to the islands by the British in the 19th century). The coups and a 1990 A.D. constitution that cemented native Melanesian control of Fiji, led to heavy Indian emigration; the population loss resulted in economic difficulties, but ensured that Melanesians became the majority. A new constitution enacted in 1997 A.D. was more equitable. Free and peaceful elections in 1999 A.D. resulted in a government led by an Indo-Fijian, but a civilian-led coup in May 2000 A.D. ushered in a prolonged period of political turmoil. Parliamentary elections held in August 2001 A.D. provided Fiji with a democratically elected government led by Prime Minister Laisenia Qarase. Re-elected in May 2006 A.D., Qarase was ousted in a December 2006 A.D. military coup led by Commodore Voreqe Bainimarama, who initially appointed himself acting president. In January 2007 A.D., Bainimarama was appointed interim prime minister. English and Fijian are the official languages; Hindustani is also spoken.
Subcategories
This category has the following 2 subcategories, out of 2 total.
R
S
Media in category "Fiji"
The following 4 files are in this category, out of 4 total.