The goal of this website is to be a safe for souls website advancing Catholic thinking and education. When editing, please adhere to the Content Standards.
Some images have been enhanced for teaching purposes and may not be identical to the original artwork.
Category:France
From The Work of God's Children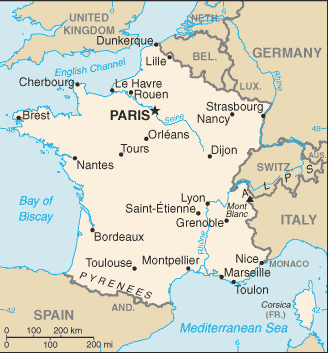 Although ultimately a victor in World Wars I and II, France suffered extensive losses in its empire, wealth, manpower, and rank as a dominant nation-state. Nevertheless, France today is one of the most modern countries in the world and is a leader among European nations. Since 1958 A.D., it has constructed a presidential democracy resistant to the instabilities experienced in earlier parliamentary democracies. In recent years, its reconciliation and cooperation with Germany have proved central to the economic integration of Europe, including the introduction of a common exchange currency, the euro, in January 1999 A.D.. The language spoken in France is French, yet there are also many local dialects.
Subcategories
This category has the following 129 subcategories, out of 129 total.
A

B

C

D

D cont.

E

F

G

H

I

L

M

N

O

P

Q

R

S

T

V

É
Media in category "France"
The following 29 files are in this category, out of 29 total.