The goal of this website is to be a safe for souls website advancing Catholic thinking and education. When editing, please adhere to the Content Standards.
Some images have been enhanced for teaching purposes and may not be identical to the original artwork.
Category:Gabon
From The Work of God's Children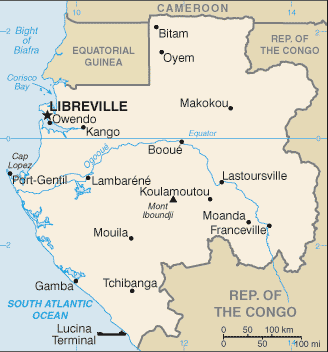 Only two autocratic presidents have ruled Gabon since independence from France in 1960 A.D.. The current president of Gabon, El Hadj Omar Bongo Ondimba - one of the longest-serving heads of state in the world - has dominated the country's political scene for four decades. President Bongo introduced a nominal multiparty system and a new constitution in the early 1990s. Abundant natural resources and considerable foreign support have helped make Gabon one of the more prosperous and stable African countries. French is the official language; Fang, Myene, Nzebi, Bapounou/Eschira, and Bandjabi are also spoken.
Subcategories
This category has the following 6 subcategories, out of 6 total.
F
L
M
O
P
R
Media in category "Gabon"
This category contains only the following file.