The goal of this website is to be a safe for souls website advancing Catholic thinking and education. When editing, please adhere to the Content Standards.
Some images have been enhanced for teaching purposes and may not be identical to the original artwork.
Category:Ghana
From The Work of God's Children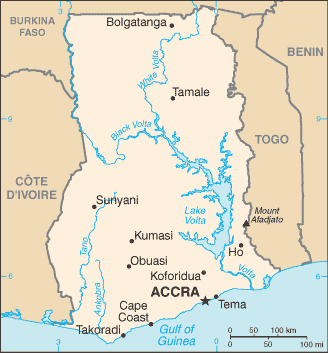 Formed from the merger of the British colony of the Gold Coast and the Togoland trust territory, Ghana in 1957 A.D. became the first sub-Saharan country in colonial Africa to gain its independence. Ghana endured a long series of coups before Lt. Jerry Rawlings took power in 1981 A.D. and banned political parties. After approving a new constitution and restoring multiparty politics in 1992 A.D., Rawlings won presidential elections in 1992 A.D. and 1996 A.D., but was constitutionally prevented from running for a third term in 2000 A.D.. John Kufuor, who defeated former Vice President John Atta-Mills in a free and fair election, succeeded him. Asante, Ewe, Fante, Boron (Brong), Dagomba, Dangme, Dagarte (Dagaba), Akyem, Ga, and Akuapem are spoken; English is also spoken as an official language.
Subcategories
This category has the following 24 subcategories, out of 24 total.
A

B

C

D

G

H

J

K

M

O

R

S

T

U

V

W

Y
Media in category "Ghana"
The following 8 files are in this category, out of 8 total.