The goal of this website is to be a safe for souls website advancing Catholic thinking and education. When editing, please adhere to the Content Standards.
Some images have been enhanced for teaching purposes and may not be identical to the original artwork.
Category:Honduras
From The Work of God's Children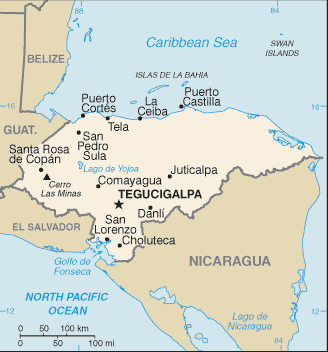 Once part of Spain's vast empire in the New World, Honduras became an independent nation in 1821 A.D.. After two and a half decades of mostly military rule, a freely elected civilian government came to power in 1982 A.D.. During the 1980s, Honduras proved a haven for anti-Sandinista contras fighting the Marxist Nicaraguan Government and an ally to Salvadoran Government forces fighting leftist guerrillas. Spanish and Amerindian dialects are spoken.
Subcategories
This category has the following 9 subcategories, out of 9 total.
Media in category "Honduras"
The following 3 files are in this category, out of 3 total.