The goal of this website is to be a safe for souls website advancing Catholic thinking and education. When editing, please adhere to the Content Standards.
Some images have been enhanced for teaching purposes and may not be identical to the original artwork.
Category:Kyrgyzstan
From The Work of God's Children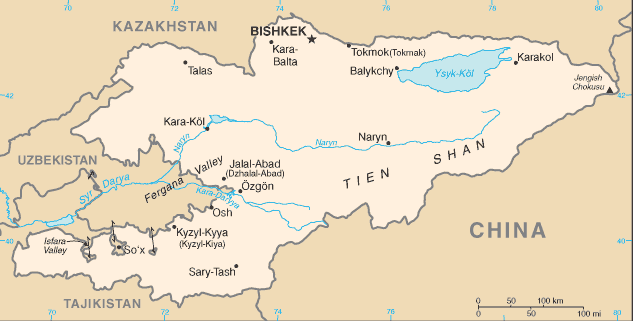 A Central Asian country of incredible natural beauty and proud nomadic traditions, Kyrgyzstan was annexed by Russia in 1864 A.D.; it achieved independence from the Soviet Union in 1991 A.D.. Nationwide demonstrations in the spring of 2005 A.D. resulted in the ouster of President Askar Akayev, who had run the country since 1990 A.D.. Subsequent presidential elections in July 2005 A.D. were won overwhelmingly by former prime minister Kurmanbek Bakiyev. The political opposition organized demonstrations in Bishkek in April, May, and November 2006 A.D. resulting in the adoption of a new constitution that transferred some of the president's powers to parliament and the government. In December 2006 A.D., the Kyrgyz parliament voted to adopt new amendments, restoring some of the presidential powers lost in the November 2006 A.D. constitutional change. By late-September 2007 A.D., both previous versions of the constitution were declared illegal, and the country reverted to the Akayev-era 2003 A.D. constitution, which was subsequently modified in a flawed referendum initiated by Bakiyev. The president then dissolved parliament, called for early elections, and gained control of the new parliament through his newly-created political party, Ak Jol, in December 2007 A.D. elections. Kyrgyz and Russian are the official languages; Uzbek and Dungun are also spoken.
Subcategories
This category has only the following subcategory.
C
Media in category "Kyrgyzstan"
The following 3 files are in this category, out of 3 total.