The goal of this website is to be a safe for souls website advancing Catholic thinking and education. When editing, please adhere to the Content Standards.
Some images have been enhanced for teaching purposes and may not be identical to the original artwork.
Category:Laos
From The Work of God's Children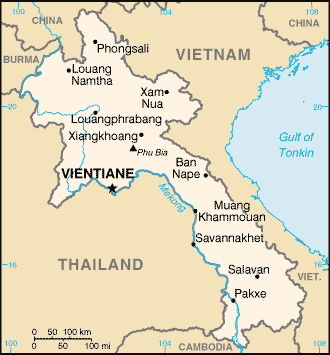 Modern-day Laos has its roots in the ancient Lao kingdom of Lan Xang, established in the 14th Century under King Fa Ngum. For three hundred years Lan Xang included large parts of present-day Cambodia and Thailand, as well as all of what is now Laos. After centuries of gradual decline, Laos came under the control of Siam (Thailand) from the late 18th century until the late 19th century when it became part of French Indochina. The Franco-Siamese Treaty of 1907 A.D. defined the current Lao border with Thailand. In 1975 A.D., the Communist Pathet Lao took control of the government ending a six-century-old monarchy and instituting a strict socialist regime closely aligned to Vietnam. A gradual return to private enterprise and the liberalization of foreign investment laws began in 1986 A.D.. Laos became a member of ASEAN in 1997 A.D.. Lao is the official language; French, English, and various ethnic languages are also spoken.
Subcategories
This category has the following 7 subcategories, out of 7 total.
Media in category "Laos"
The following 19 files are in this category, out of 19 total.