The goal of this website is to be a safe for souls website advancing Catholic thinking and education. When editing, please adhere to the Content Standards.
Some images have been enhanced for teaching purposes and may not be identical to the original artwork.
Category:Liberia
From The Work of God's Children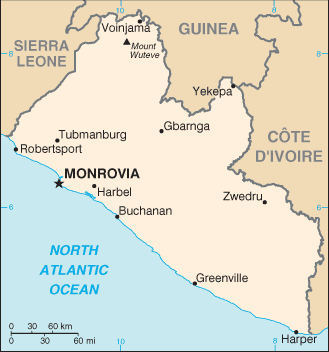 Settlement of freed slaves from the US in what is today Liberia began in 1822 A.D.; by 1847 A.D., the Americo-Liberians were able to establish a republic. William Tubman, president from 1944 A.D.-71, did much to promote foreign investment and to bridge the economic, social, and political gaps between the descendents of the original settlers and the inhabitants of the interior. In 1980 A.D., a military coup led by Samuel Doe ushered in a decade of authoritarian rule. In December 1989 A.D., Charles Taylor launched a rebellion against Doe's regime that led to a prolonged civil war in which Doe himself was killed. A period of relative peace in 1997 allowed for elections that brought Taylor to power, but major fighting resumed in 2000 A.D.. An August 2003 A.D., peace agreement ended the war and prompted the resignation of former president Charles Taylor, who faces war crimes charges in The Hague related to his involvement in Sierra Leone's civil war. After two years of rule by a transitional government, democratic elections in late 2005 A.D. brought President Ellen Johnson Sirleaf to power. English is an official language; other languages are also spoken.
Subcategories
This category has the following 3 subcategories, out of 3 total.
C
M
R
Media in category "Liberia"
The following 7 files are in this category, out of 7 total.