The goal of this website is to be a safe for souls website advancing Catholic thinking and education. When editing, please adhere to the Content Standards.
Some images have been enhanced for teaching purposes and may not be identical to the original artwork.
Category:Malaysia
From The Work of God's Children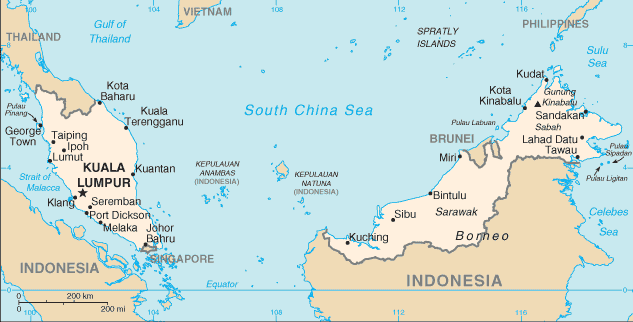 During the late 18th and 19th centuries, Great Britain established colonies and protectorates in the area of current Malaysia; these were occupied by Japan from 1942 A.D. to 1945 A.D.. In 1948 A.D., the British-ruled territories on the Malay Peninsula formed the Federation of Malaya, which became independent in 1957 A.D.. Malaysia was formed in 1963 A.D. when the former British colonies of Singapore and the East Malaysian states of Sabah and Sarawak on the northern coast of Borneo joined the Federation. The first several years of the country's history were marred by Indonesian efforts to control Malaysia, Philippine claims to Sabah, and Singapore's secession from the Federation in 1965 A.D.. During the 22-year term of Prime Minister Mahathir bin Mohamad (1981 A.D.-2003 A.D.), Malaysia was successful in diversifying its economy from dependence on exports of raw materials, to expansion in manufacturing, services, and tourism. Bahasa Malaysia is the official language; English, Chinese (Cantonese, Mandarin, Hokkien, Hakka, Hainan, Foochow), Tamil, Telugu, Malayalam, Panjabi, and Thai are also spoken.
Subcategories
This category has the following 15 subcategories, out of 15 total.
Media in category "Malaysia"
The following 5 files are in this category, out of 5 total.