The goal of this website is to be a safe for souls website advancing Catholic thinking and education. When editing, please adhere to the Content Standards.
Some images have been enhanced for teaching purposes and may not be identical to the original artwork.
Category:Mali
From The Work of God's Children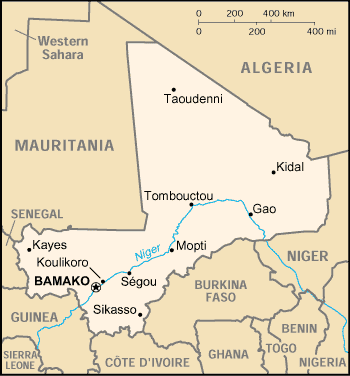 The Sudanese Republic and Senegal became independent of France in 1960 A.D. as the Mali Federation. When Senegal withdrew after only a few months, what formerly made up the Sudanese Republic was renamed Mali. Rule by dictatorship was brought to a close in 1991 A.D. by a military coup - led by the current president Amadou Toure - enabling Mali's emergence as one of the strongest democracies on the continent. President Alpha Konare won Mali's first democratic presidential election in 1992 A.D. and was reelected in 1997 A.D.. In keeping with Mali's two-term constitutional limit, Konare stepped down in 2002 A.D. and was succeeded by Amadou Toure, who was subsequently elected to a second term in 2007 A.D.. The elections were widely judged to be free and fair. French is the official language; Bambara and numerous African languages are also spoken.
Subcategories
This category has the following 7 subcategories, out of 7 total.
Media in category "Mali"
The following 4 files are in this category, out of 4 total.