The goal of this website is to be a safe for souls website advancing Catholic thinking and education. When editing, please adhere to the Content Standards.
Some images have been enhanced for teaching purposes and may not be identical to the original artwork.
Category:Papua New Guinea
From The Work of God's Children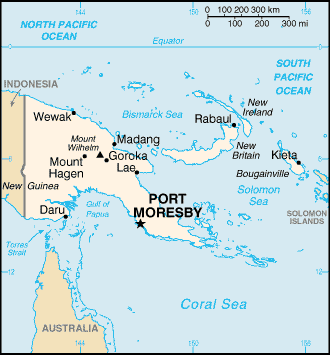 The eastern half of the island of New Guinea - second largest in the world - was divided between Germany (north) and the UK (south) in 1885 A.D.. The latter area was transferred to Australia in 1902 A.D., which occupied the northern portion during World War I and continued to administer the combined areas until independence in 1975 A.D.. A nine-year secessionist revolt on the island of Bougainville ended in 1997 A.D. after claiming some 20,000 lives. Melanesian Pidgin is the primary language, but there are 820 indigenous languages that are also spoken (over one-tenth of the world's total).
Subcategories
This category has the following 33 subcategories, out of 33 total.
A

B

D

E

G

H

K

K cont.

L

M

N

P

R

S

V

W
Media in category "Papua New Guinea"
The following 3 files are in this category, out of 3 total.