The goal of this website is to be a safe for souls website advancing Catholic thinking and education. When editing, please adhere to the Content Standards.
Some images have been enhanced for teaching purposes and may not be identical to the original artwork.
Category:Paraguay
From The Work of God's Children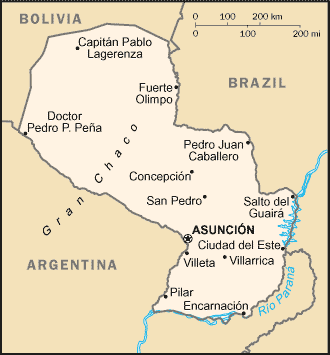 In the disastrous War of the Triple Alliance (1865 A.D.-1870 A.D.) - between Paraguay and Argentina, Brazil, and Uruguay - Paraguay lost two-thirds of all adult males and much of its territory. It stagnated economically for the next half century. In the Chaco War of 1932 A.D.-1935 A.D., large, economically important areas were won from Bolivia. The 35-year military dictatorship of Alfredo Stroessner was overthrown in 1989 A.D., and, despite a marked increase in political infighting in recent years, relatively free and regular presidential elections have been held since then. Spanish and Guarani are the official languages.
Subcategories
This category has the following 16 subcategories, out of 16 total.
Media in category "Paraguay"
The following 2 files are in this category, out of 2 total.