The goal of this website is to be a safe for souls website advancing Catholic thinking and education. When editing, please adhere to the Content Standards.
Some images have been enhanced for teaching purposes and may not be identical to the original artwork.
Category:Peru
From The Work of God's Children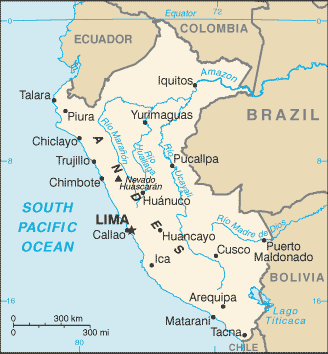 Ancient Peru was the seat of several prominent Andean civilizations, most notably that of the Incas whose empire was captured by the Spanish conquistadors in 1533 A.D.. Peruvian independence was declared in 1821 A.D., and remaining Spanish forces defeated in 1824 A.D.. After a dozen years of military rule, Peru returned to democratic leadership in 1980 A.D., but experienced economic problems and the growth of a violent insurgency. President Alberto Fujimori's election in 1990 A.D. ushered in a decade that saw a dramatic turnaround in the economy and significant progress in curtailing guerrilla activity. Nevertheless, the president's increasing reliance on authoritarian measures and an economic slump in the late 1990s generated mounting dissatisfaction with his regime, which led to his ouster in 2000 A.D.. A caretaker government oversaw new elections in the spring of 2001 A.D., which ushered in Alejandro Toledo as the new head of government - Peru's first democratically elected president of Native American ethnicity. Spanish and Quechua are the official languages, but Aymara and a large number of minor Amazonian languages are also spoken.
Subcategories
This category has the following 58 subcategories, out of 58 total.
A

C

C cont.

H

I

J

L

L cont.

M

P

R

S

T

Y
Media in category "Peru"
The following 8 files are in this category, out of 8 total.