The goal of this website is to be a safe for souls website advancing Catholic thinking and education. When editing, please adhere to the Content Standards.
Some images have been enhanced for teaching purposes and may not be identical to the original artwork.
Category:Portugal
From The Work of God's Children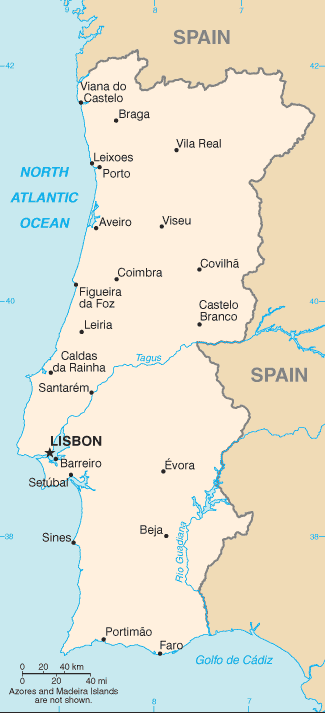 Following its heyday as a world power during the 15th and 16th centuries, Portugal lost much of its wealth and status with the destruction of Lisbon in a 1755 A.D. earthquake, occupation during the Napoleonic Wars, and the independence in 1822 A.D. of Brazil as a colony. A 1910 A.D. revolution deposed the monarchy; for most of the next six decades, repressive governments ran the country. In 1974 A.D., a left-wing military coup installed broad democratic reforms. The following year, Portugal granted independence to all of its African colonies. Portugal is a founding member of NATO and entered the EC (now the EU) in 1986 A.D.. The official languages of Portugal are Portuguese and Mirandese.
Subcategories
This category has the following 41 subcategories, out of 41 total.
A

B

C

E

F

F cont.

G

L

P

R

R cont.

S

V

É
Media in category "Portugal"
The following 6 files are in this category, out of 6 total.