The goal of this website is to be a safe for souls website advancing Catholic thinking and education. When editing, please adhere to the Content Standards.
Some images have been enhanced for teaching purposes and may not be identical to the original artwork.
Category:Saint Lucia
From The Work of God's Children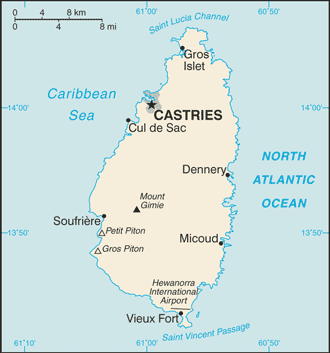 The island, with its fine natural harbor at Castries, was contested between England and France throughout the 17th and early 18th centuries (changing possession 14 times); it was finally ceded to the UK in 1814 A.D.. Even after the abolition of slavery on its plantations in 1834 A.D., Saint Lucia remained an agricultural island, dedicated to producing tropical commodity crops. Self-government was granted in 1967 A.D. and independence in 1979 A.D.. English is the official language; French patois is also spoken.
Subcategories
This category has the following 2 subcategories, out of 2 total.
C
W
Media in category "Saint Lucia"
The following 5 files are in this category, out of 5 total.