The goal of this website is to be a safe for souls website advancing Catholic thinking and education. When editing, please adhere to the Content Standards.
Some images have been enhanced for teaching purposes and may not be identical to the original artwork.
Category:Samoa
From The Work of God's Children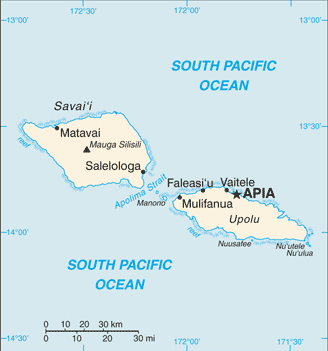 New Zealand occupied the German protectorate of Western Samoa at the outbreak of World War I in 1914 A.D.. It continued to administer the islands as a mandate and then as a trust territory until 1962 A.D., when the islands became the first Polynesian nation to reestablish independence in the 20th century. The country dropped the "Western" from its name in 1997 A.D.. Samoan (Polynesian) and English are spoken.
Subcategories
This category has only the following subcategory.
R
Media in category "Samoa"
The following 2 files are in this category, out of 2 total.