The goal of this website is to be a safe for souls website advancing Catholic thinking and education. When editing, please adhere to the Content Standards.
Some images have been enhanced for teaching purposes and may not be identical to the original artwork.
Category:The Gambia
From The Work of God's Children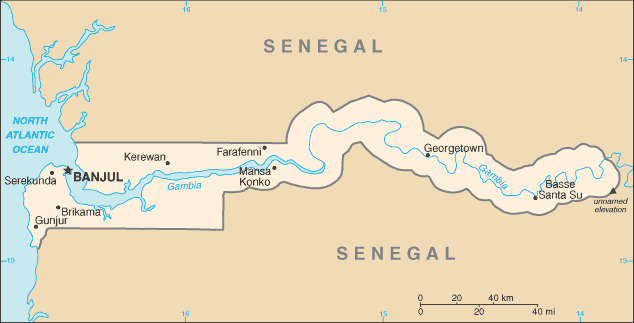 The Gambia gained its independence from the UK in 1965 A.D.. Geographically surrounded by Senegal, it formed a short-lived federation of Senegambia between 1982 A.D. and 1989 A.D.. In 1991 A.D. the two nations signed a friendship and cooperation treaty, but tensions have flared up intermittently since then. English is the official language; Mandinka, Wolof, and Fula are also spoken.
Subcategories
This category has the following 2 subcategories, out of 2 total.
B
R
Media in category "The Gambia"
The following 2 files are in this category, out of 2 total.